Active residential listings breakdown May 7, 2018 for homes listed for sale in the Omaha Area MLS (multiple listing services).
As of May 7, 2018, there was a total of 1,991 active listings for sale, up 5%, from 5/7/2018. 667 are new construction homes listed for sale. This leaves about 1,324 existing homes for sale, 1001 are listings in Douglas and Sarpy counties. Douglas county has 811 active listings and Sarpy county has 190. The following chart breaks down in more detail for both Douglas and Sarpy counties active listings
One interesting thing I would like to point out. Existing listings are up 7% from April to May, and Pending Sales are up 15%. Look for more posts about Omaha Real Estate Market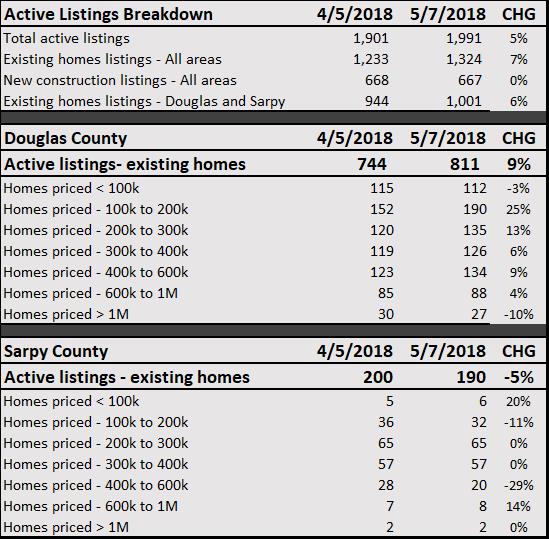 Information was pulled from the Great Plains Omaha Board of Realtors Multiple Listing Service 5/7/2018; OABR deems information reliable but not guaranteed. Prepared by Steve Lauver—REALTOR Data does not include any private home sales
If you are thinking of buying or selling a home in the Omaha metro area, please consider my services. I will be happy to stop by and provide you a FREE market analysis of your home.
You can search for Omaha Homes for Sale – Omaha NE Real Estate. Plus you can register for a free account, where you can save your favorite homes and automatically receive email notifications when new listings hit the market that matches your search criteria.
Steve Lauver
Nebraska Realty